When I asked Keisha to write about her boudoir shoe experience with us, she quickly responded with a huge "YES!" When I first read this it brought me to tears. Not only because of the impact her experience had on her, but also because I could relate to her journey. Here is her story, written by Keisha herself.

Keisha's Story – Through her lens
My boudoir experience with Jolana was nothing like I was expecting. It was such an empowering and wonderful time. She made me feel so comfortable and like we were friends when we had just met for the first time.
To set the scene, it was my 25th birthday and I had just had a party the night before. I was not only hung over but SUPER nervous. I had been modeling for 12 years but never did a boudoir shoot. Growing up, I was always super skinny. I was bullied for it and so I started to hate my body. I had tried to do everything I could to gain weight but I could never gain enough to make a difference or to stop people from picking on me. Even as I got older, random people would make comments about how I "needed to eat a cheeseburger or I would fly away", or "oh my gosh! You're so skinny. Do you eat!?". It really had an effect on my mental health. I wouldn't even look at myself naked.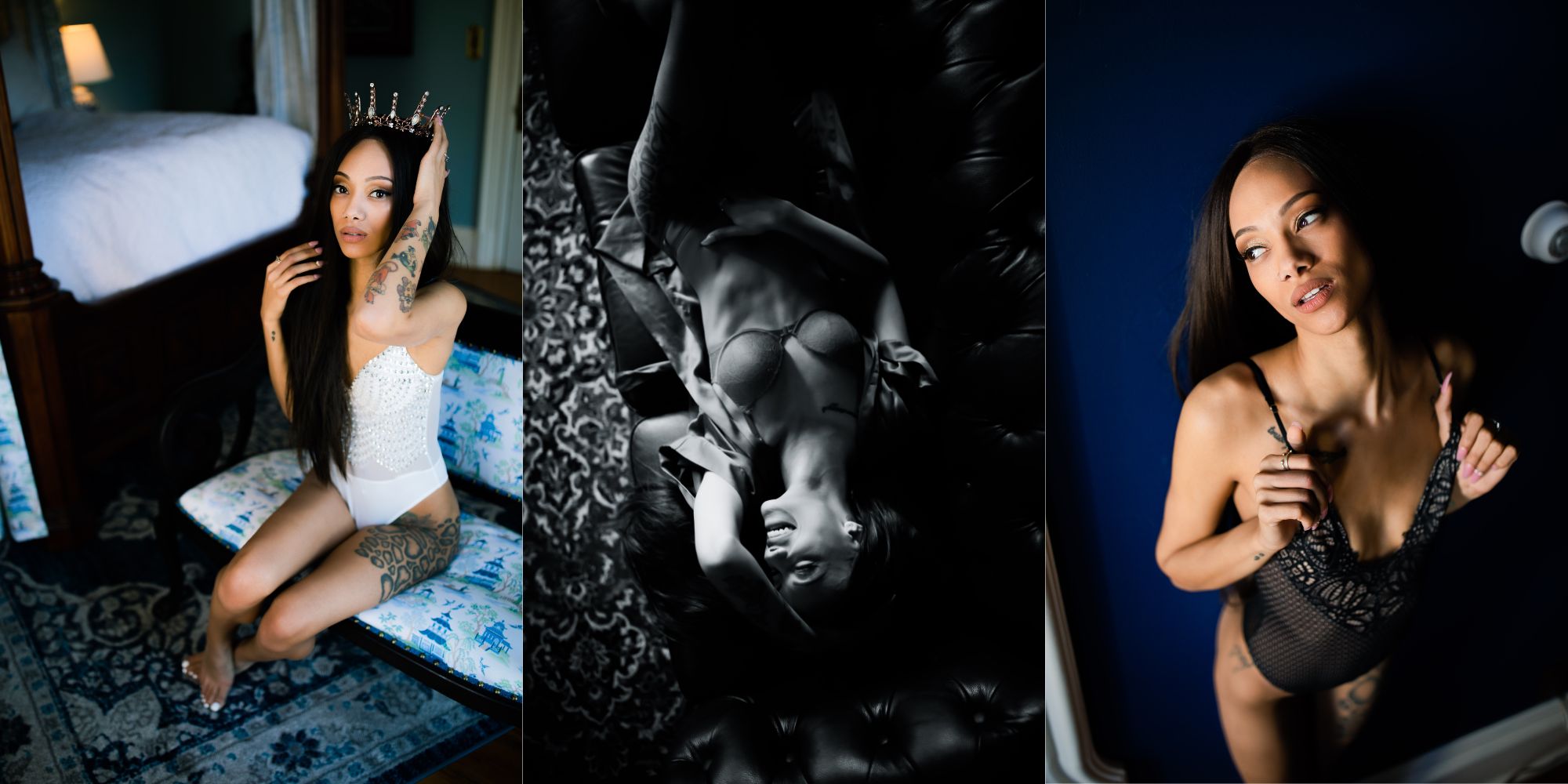 Fast forward to moving from Rhode Island to Rochester, I found a small group of photographers and came across a post of Jolana's about a giveaway and entered it. Something told me I needed to work with her. I ended winning the giveaway and I had no idea what was in store. I show up at the photoshoot location and she gives me the warmest welcome and even had a bottle of champagne for me for my birthday! (How sweet!) While we were shooting, she guided me in what her vision was and we were laughing like we were best friends the entire time. A couple weeks later, it was time to see the MAGIC we had made.

We had taken so many pictures and she went through literally over 100 photos of me and made them PERFECT. I almost cried. I couldn't stop saying "oh my god, that's me". For the first time I felt sexy and seen. Like my body was beautiful and free. Not only did she take the most beautiful pictures, she changed my whole outlook on my self image. I even showed my parents my pictures (not the full nakies), but even they loved them!
I would recommend The Photography Experience to everyone! Jolana will literally change your life.

Want to experience your own Empowerment Session? Book a discovery call to learn more!
Not quite ready to take the leap, but want to learn more about the possibilities?
Join our Women's only Boudoir VIP Facebook group, full of some of the most supportive and amazing women you will ever meet! Joining also keeps you up to date on everything boudoir related, including sales, new sets, and important announcements!